SIGVARIS 701 TOP FINE AT COLLANT CL1 CLOSED TOE NUDE
SIGVARIS 701 TOP FINE AT COLLANT CL1 CLOSED TOE NUDE
Choose your lenght Sigvaris
Choose your size Sigvaris
Free shipping for all orders over 70€
Got any doubt? Contact us!
This product is a CE marked medical device
The Sigvaris monocollant has the following characteristics:
Glamorous covering fabric
In soft and comfortable multi-fiber
Also custom-made
Monoccolant available with adjustable tear-off waist belt for a modular fit or without belt
Class 1, KL1 K1, CL1, CLL1, Class first (18 - 21 mmHg)
Open toe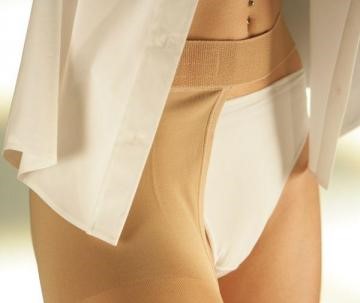 Therapeutic efficacy
The tried and tested processing structure determines the therapeutic compression and the anatomical shape. The highly elastic elastane threads give the stockings compressive strength and therefore therapeutic efficacy confirmed by numerous medical tests.
Softness and resistance
Silky softness to the touch thanks to the special composition of multi-fiber textured polyamide. Non-deformability and resistance over time thanks to the double-coated weft thread and elastic inserts.
Comfort
The porosity of the material makes the skin breathe. Thanks to the transport of moisture towards the outside, the stockings and tights are pleasant to wear even on the hottest days. The double-wound yarns prevent the elastan from coming into contact with the skin and are therefore comfortable. Hypoallergenic, delicate on the skin, they are easy to put on and take off thanks to their softness.
Complete range also customized
Available in teo colour: nude or black. You can also choose the first class or the second class of compression.
Shipments
Italy:
All packages will be shipped by express courier within 24/48 hours, the cost of shipping is € 5.99 including VAT for all shipments to Italy and islands included unless otherwise specified.
For all orders over 70 euros shipping will be free.

Abroad:
For Europe the shipping rate is 15 Euros and for the rest of the world 25 Euros. Shipping times vary depending on the country from 24 hours for Europe and up to 5 days for more distant countries
The SanitariaWeb Staff reserves the right to ship the goods with a different courier for logistical needs.

Products with immediate shipment:
All items marked with this wording "immediate shipment" if purchased by 12 (noon) will be shipped the same day of the order and delivered within 24/48 hours on the Italian territory by express courier within 48/72 hours for the rest of the world with UPS courier, except for any delays attributable to the courier, for the other items the shipping times proposed in the section below "delivery times and methods" apply.

Payments
Credit Card, PayPal, Satispay, Postepay Recharge, Bank Transfer, Payment on delivery (cash payment)

Methods of Return, Return and Exchange of goods
Returns and exchanges are allowed under the following conditions:
If made no later than 15 days from receipt of the order
If previously authorized and agreed;
If the goods are intact and not damaged;
You may be interested in: